Denver Concerts

Popular Venues
Paramount Theater
The Marquis Theater
Soiled Dove Underground
Ogden Theater
Bluebird Theater
Gothic Theatre
Red Rocks Amphitheatre
The Fillmore Auditorium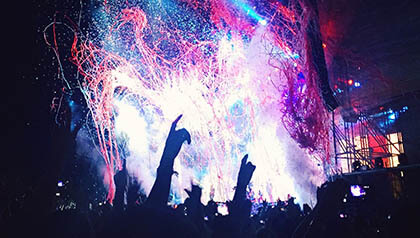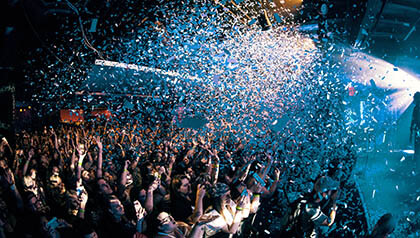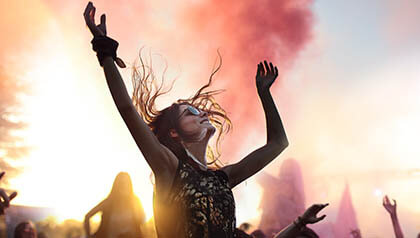 Everyone loves going to concerts. You love it, we love it, everyone loves it. The crowds, the lights, the anticipation, being right in front of the state, and, best of all, amazing music and the chance to meet your favorite musicians! So why not make the most of the experience with a party bus from Denver Party Bus? We even handle music festivals for you. Our buses have everything you need to make a night with friends your favorite musicians just that much better!.
Denver Party Bus party buses all come equipped with custom installed state of the art stereo systems so you can put in your favorite CD, hook up your iPod or MP3 player and get the show started early! The amazing speakers provide loud, crystal clear quality so you can hear your favorite music the way it's meant to be heard and get you in the mood for the upcoming show! Better yet, our buses are great for dancing and partying so while you're enjoying your favorite music you can mix a drink at the bar, which conveniently has ice coolers and glassware, and dance the night away on the buses hard wood floors or even take advantage of the dance poles! Our buses also feature flat screen TVs so if you happen to have one of those live DVD that some musicians sell, you can pop that in and add even more of a concert feel to the bus! By the time you get to the venue you'll be in full party mode!
But the perks don't stop there! You even can beat typical frustrations when you have a party bus from Denver Party Bus! What typical frustrations you wonder? Well, what are the only two things that no one likes about big concerts? The answers: Traffic jams and parking nightmares. We agree that nothing can ruin a fun evening more than an hour of stop and go traffic or driving in circles looking for a place to park only to finally find a spot and have it stolen right as you're about to pull in! But luckily for those of you on a party bus from Denver Party Bus, you won't have to worry about either of those things! While you're on the bus dancing, partying, and getting pumped up for the event, there's no amount of traffic that can bring you down! You'll be the envy of everyone on the road! As for parking, when you're with Denver Party Bus, we drop you off right up front so you can step off the bus and go right in – directly from your private party and into the show! Whether you're going to the Paramount, Dazzle Jazz, the Larimer Lounge, or the Pepsi Center, a concert plus Denver Party Bus is sure to equal a perfect evening!
Denver Party Bus operates 24/7 so even if you stay right until the last encore it's no problem – we're here for you! Give us a call any time day or night to schedule your party bus reservation. But book early for concerts – everyone wants to arrive in style so our buses book quick for these events!