Golden Bars and Restaurants
A location rich with culture, recreational opportunities, and some of the most beautiful views in the world, the town of Golden, CO also has some of the friendliest people on earth. The earliest settlers were attracted here by the possibility of discovering gold. But over time, it is the rich soil that has sustained this area in the form of farming and coal mining and clay extraction. Today, the town and surrounding area offers anything and everything that will enhance living a full life. Even though it has grown into a modern town, there is still an old west flair here. There are some definite must sees and we'll be glad to take you around in style in one of our top of the line party buses, we have luxury vehicles that seat anywhere from 6 people all the way up to 55 passengers. You probably didn't know that Golden is home to the largest single site brewery in the world, Coors Brewery. They offer free tours daily. There are also numerous history museums as well as world class outdoor recreation. We suggest that you try and take on any number of trails. Depending on your skill and experience level, you can choose the appropriate trail. Wildlife viewing is always a thrill and here you will want to have your eyes peeled in order to catch a Bighorn, Mule Deer or possibly an Elk. You can always plan a wonderful picnic in the great out of doors. The pristine beauty will help you to breath easier. There are many other activities that we could mention but for now, we will leave you with some excellent dining opportunities at one of the great establishments below.
Ace-Hi Tavern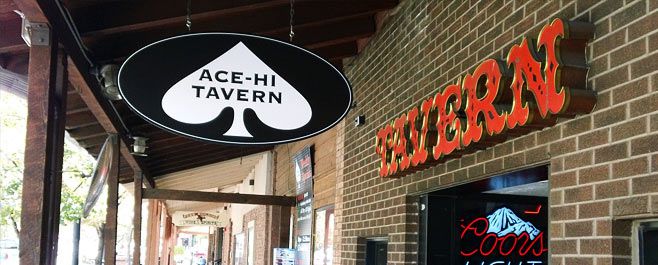 1216 Washington Ave, Golden, CO 80402
(303) 279-9043
Talk about a great drive bar. There is a huge drink selection and the prices are amazingly reasonable. Ace-Hi serves beer, liquor, and wine so anything you might desire is definitely here. This is a neighborhood bar which means there is a friendliness that permeates everything that is done here but what you are really going to love is the fact that its not just locals being friendly to locals. Visitors will immediately feel at ease and welcomed. The setup is perfect for those who just want to sit and catch up with a friend. One of the best bars in the area and one that you need to get to as soon as you can.
Rock Rest Lodge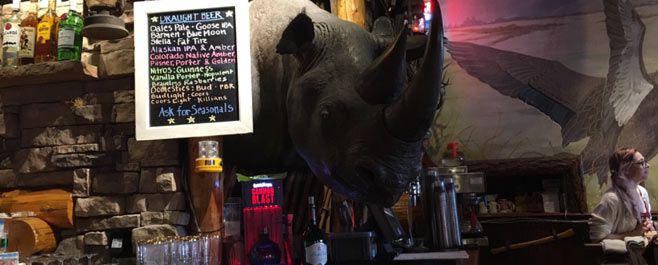 16005 Mt Vernon Rd, Golden, CO 80401
(303) 216-2895
An ideal venue for a fun evening out on the town that will turn into a wild night if you stay out late with great drinks pouring. If you want to quickly fill up on something, we suggest the wings. They are so huge you are not going to need many until your stomach is completely stuffed. The decor is very unique and fun to look at as there are old airline props used as fans, vintage posters and many beer signs. If you are one of those who crave entertainment, you are going to be thrilled with the huge dance floor, the pool tables and even shuffleboard.
Mountain Tap Bar & Grill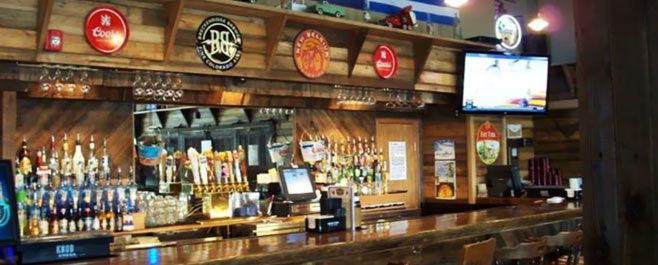 1901 Youngfield St, Golden, CO 80401
(720) 689-5972
If you're craving quality alcohol and some amazingly tasty Greek food, then you absolutely have to head on over to the Mountain Tap Bar & Grill. It's a much loved establishment in Golden and for very good reason. This place has it all including great service, atmosphere, food, drink specials, and games. Mountain Tap has pool, darts, golden tee, ball crane and several more to discover. Rustic is a great way to describe the decor and interior here. But it fits perfectly and you are going to love everything about it. Stop in soon and check out the live music.
Miners Saloon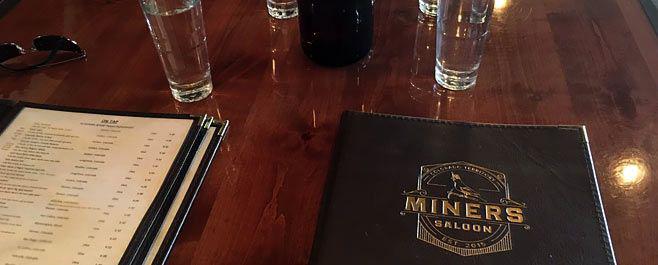 1109 Miners Aly, Golden, CO 80401
(303) 993-3850
Yes, this place is a modern bar but it is also a reminder of days gone by when mining was going full bore. The interior is rustic and very cozy. There is definitely an old west feel ot the place but yet there is also a contemporary edge to everything. Amazingly, they have 24 taps and more than 50 beers in bottles and cans. You need to sample their signature Miners Margarita. Their selection of premium scotch, whiskey, gin and vodka as well as their craft cocktail menu are truly astounding. The food menu is just as good and you are doing to love their entree choices.
El Callejon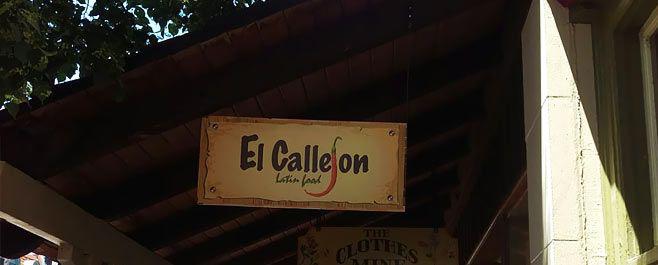 1205 1/2 Washington Avenue, Golden, CO 80401
(303) 278-6366
The owners of this phenomenal establishment have a true passion for serving up amazing food and drink. And they believe that every meal should be tasty, appetizing, yummy and mouth-watering. But truly, if you try anything here, it needs to be the Tamales. They are beyond delicious and your taste buds will be thanking you over and over again. In fact, you will want to order a dozen to go. You are also going to love the sauces as well as all of their wraps. The Isla del Pirata wrap is amazing in so many ways. You need to pencil this place in on your list of go to establishments.