Conifer Bars and Restaurants
Everything began when a post office was established in a place called Conifer back in 1894. There are numerous historic landmarks that you can visit and each of them tell the story of how people lived in the area in the past. What a charming mountain destination awaits your arrival. You will have a choice from many unique area festivals and some amazing outdoor activities. In terms of recreation, residents and visitors alike enjoy mountain biking, hiking, rock climbing, four wheeling, camping, cross country skiing, snow shoeing and much more. There is much fun to be had here and a lot of it is family friendly as well. And being so close to the picturesque Rocky Mountain National Park adds to the great recreational opportunities you can have in this amazingly beautiful setting. One of those outstanding opportunities is hiking. The park has over 355 miles of hiking trails and there is a wide range of places to hike including flat lakeside strolls and steep mountain peak climbs. It is really up to you. There are also many miles of roads that can be driven in order to view some of the amazing scenery from the friendly confines of your Mercedes-Benz Sprinter luxury vehicle, or any of our other wonderful late model limousines and party buses. Much more awaits you on this venture of Conifer, but we want to make sure that you know about the phenomenal eating and drinking establishments to take part in too.
Cactus Jack's Tavern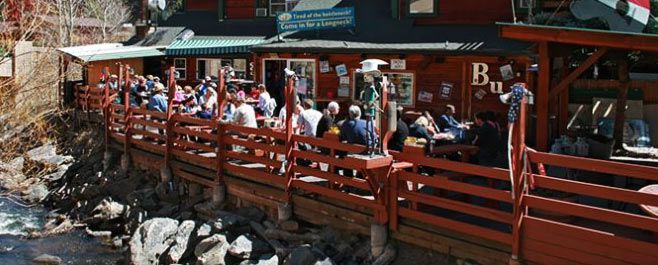 4651 Hwy 73, Evergreen, CO 80439
(303) 674-1564
Cactus Jack's is a high quality bar with a great selection of beer and liquor. It is a major favorite of the locals and out of towners as well. The live music events they host are going to blow you away. When you her the bands and live musical acts that perform here, you are going to wonder why they aren't called major professional acts. When the live music isn't flowing, the Juke box is always tuned to something to make you tap your toes. The menu contains a nice variety. We suggest their signature burger which can be topped with anything and everything. If weather permits, don't forget to ask about the patio so you can enjoy the view.
Crossroads Pub & Grill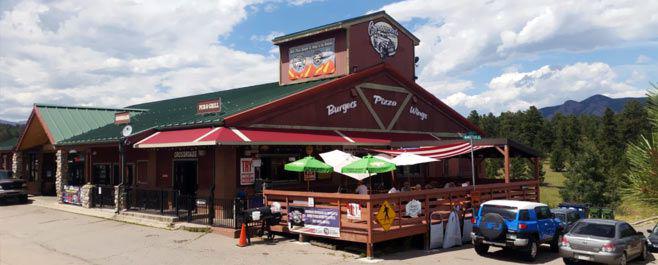 16 Mount Evans Blvd, Pine, CO 80470
(303) 838-5558
It is an amazing thing when you find a beautiful place with an amazing dining area and that is exactly what you will find here. Bring your appetite and get ready to consume some of the best dishes this side of the Rockies. Talk about tantalizing appetizers. When you move onto the entrees, we suggest that you sample one of their signature pizzas. But if you are savoring a burger or wings, they have that has well. One thing you can count on is the fact that everything is made from scratch. And to top things off, you just can't beat the way that the staff pays attention to your every need.
Buck Snort Saloon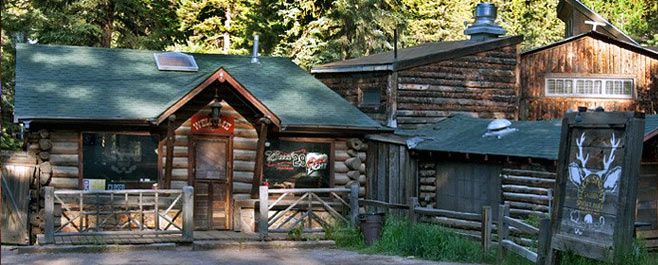 15921 S Elk Creek Rd, Pine, CO 80470
(303) 838-0284
Located in one of the most scenic areas of the world, you are going to step into this place and forget about everything else but having the time of your life. The first thing that you will want to do here is to kick back and relax with a pint of their famous Antler Ale. Once you have had a chance to breath a bit, we suggest ordering the award winning half pound Buck Burger. If you have the chance to sit on the deck overlooking the scenic Elk Creek, take it. The place just has a really cool vibe and if you just came here for a drink and to look around and converse with the staff and other patrons you would be very happy.
The Little Bear Saloon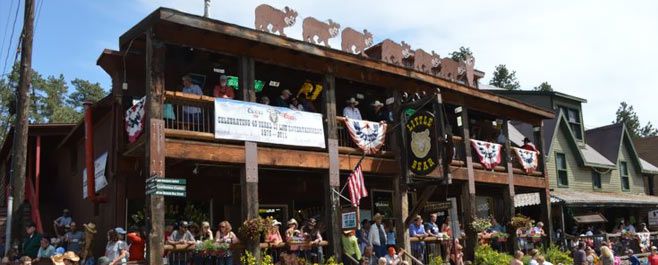 28075 Hwy 74, Evergreen, CO 80439
(303) 674-9991
Isn't it time that you found that little place where you can actually unwind and feel the stress just melting away. Well, we have found it for you. Step inside and let the friendly staff treat you like royalty. You are going to love the layout and the decor. If you need some entertainment, no problem. Some of the best live bands in the area perform here. Also, there are pool tables and high definition flat screens. And you need to know about the dance floor, there is enough room for you and all of your friends. Check out their fish and chips, they will come to you nice and crispy and the slaw is the perfect side.
Red Rocks Grill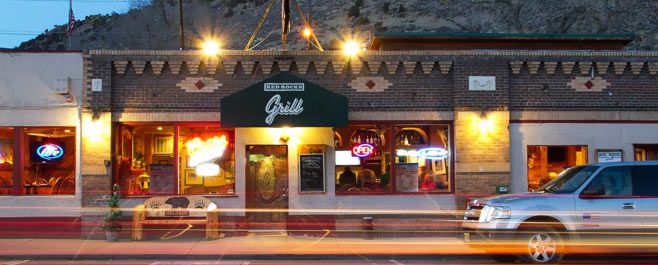 415 Bear Creek Avenue, Morrison, CO 80465
(303) 697-9290
Stagecoach Sports Grill is a casual bar with a great mountain getaway vibe. You will not find a spot where you will be more comfortable. The menu has such a great variety for you to peruse. You will find a very nice mix of Mexican and American dishes to ponder like their delicious Black Angus beef burger, sizzling Fajitas and their signature dish, the Monte Cristo sandwich. The ambiance is a lot of fun and very laid back. The staff have been well trained on paying attention to details. And you just can't beat the live music and the bar features games like pool tables, pinball, and video games. They even offer homemade ice cream.