Colorado Springs Bars and Restaurants
Colorado Springs is one of the great cities of Colorado; rather it is the second-largest city in the state. Popular as 'Little London,' the city has won hearts of many visitors from time with its vast natural beauty, spectacular family attractions and obviously, the exclusive museums those talks about the glorious past of the city as well as the state. Colorado Springs is famous for its natural parks that are the main tourist attraction of this city. If you are in this city and don't visit Garden of Gods at the foothill of Pikes Peak, your visit will be incomplete. The Pioneers Museum, Cheyenne Mountain Zoo, American Numismatic Association Money Museum and the famous Broadmoor Seven Falls are the other attractions of the city. But, if you want to taste the delicacy of the state, there are varieties of restaurants and bars that will welcome you with open hands.
Colorado Springs has always been one of the most attractive places for tourists of the world, and one of the main reasons is obviously the classy restaurants and bars. The nightlife of this city always throbs with excitement, fun and full of life. If you are in this city, you just need to decide what type of cuisine you want. When you think of food and drink, Colorado Springs will offer amazing restaurants and bars where you can spend your holidays and weekends with full of enthusiasm. Here are the best destinations where you can enjoy the best cuisine and famous drinks that can soothe your palate.
Penrose Room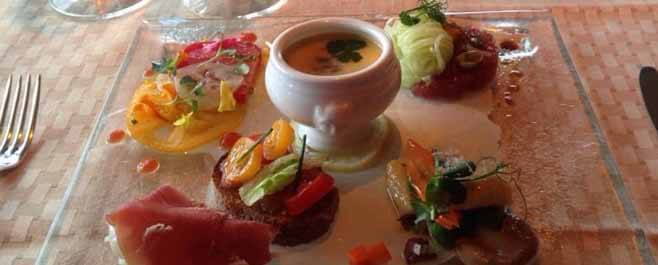 1 Lake Ave, the Broadmoor, Colorado Springs, CO 80906
(866) 443-9426
There is nothing wrong to mention this restaurant on the top of the list as it is the only Forbes Five-Star, AAA Diamond Restaurant of Colorado. This is the restaurant with an awesome ambiance which can set up your mood for the night. With the entrancing view of the mountain, dining at this restaurant can be a lifetime experience. While talking about Penrose Room, you have to talk about its amazing service. It is unmatched to anyone and will meet your every expectation. And finally, the exquisite food will blow your mind while the extensive wine list will confuse you to choose the best one. If you want more entertainment, enjoy the dancing performances at Penrose Trio.
Shuga's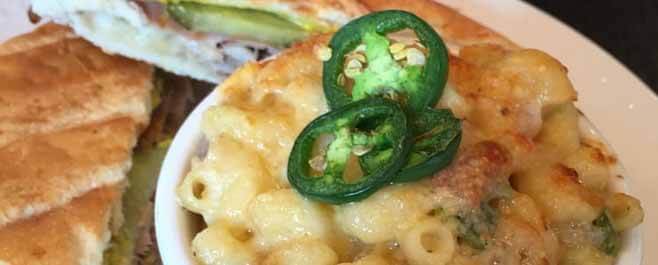 702 S Cascade Ave, Colorado Springs, CO 80903
(719) 328-1412
You can't feel the life at Shuga's until you make your entry. You can describe Shuga with three words only- vibrant, energetic and full of feelings. If you are looking for a place to hang out with your friends on weekends, this is the best place ever to visit at Colorado Springs. If you want to taste excellent bar foods along with incredible cocktails, Shuga will welcome you with open hands. The nightlife at Shuga is full of excitement, and you can also enjoy the free Wi-Fi service there. Shuga's outdoor seating arrangement will give you an exceptional experience to enjoy your meal and drink while having the best natural views. And when it combines with the live music, you will get the best dining experience ever.
Lake Terrace Dining Room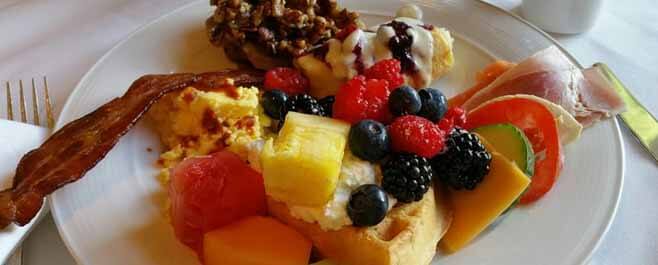 1 Lake Ave, Colorado Springs, CO 80906-4269
(866) 443-9426
Restaurants are not only for dinners, right? Lake Terrace Dining Room will welcome you taste their extensive range of breakfast menu that they offer from Monday to Saturday. On Sunday, you will be overwhelmed with the special Sunday brunch. A morning shows the day and your day will go absolutely fine if you start your day from Lake Terrace Dining Room. The additional benefit of spending your time here is obviously the mind-blowing ambiance and superb service that will make your day. The amalgamation of Colorado style with authentic European breakfast is really unique. Visit here from 7am to 11am and fill your tummy with the awesome and exclusive breakfast menu. Have a great start!
Wyatt's Pub & Grill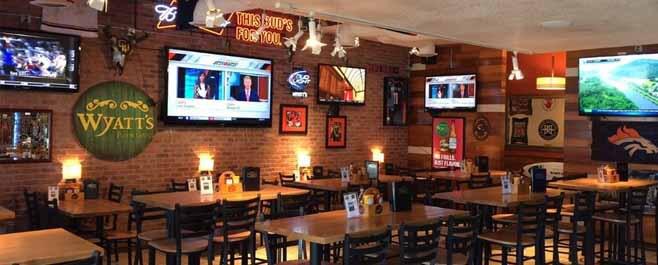 806 Village Center Dr, Colorado Springs, CO 80919
(719) 598-4100
If you want to taste your favorite beer with a wide variety of wines, this will be your perfect destination. Wyatt's will bring an awesome collection of drinks along with numerous types of pizzas, burgers, and sandwiches. This is a place where you can take your kids too as they offer incredible kid's meals with an exclusive drink. The comfortable ambiance and nicely decorated interior give you a homely feeling. You can even watch your favorite sports over there and cheer for your favorite team with your group of friends. Just have your drink and burgers on your hand and hang out with your gang. The cleanliness and excellent service will win your heart too.
Ristorante Del Lago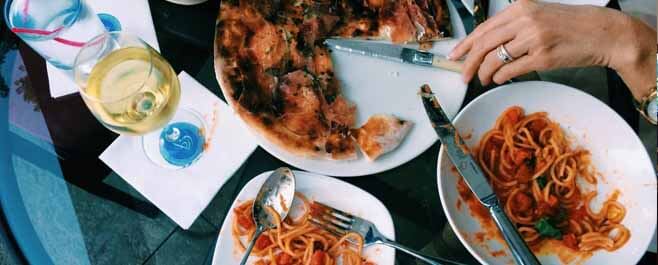 1 Lake Ave, Colorado Springs, CO 80906
(719) 577-5774
Eating at any restaurants is not only about the food, but the foodies also love to eat within a dreamy ambiance. If you belong to that group who love to enjoy their delectable dishes under the adorable atmosphere, Ristorante Del Lago will welcome you with luxurious designs that are inspired by the villas of Lake Como. This restaurant will grab your attention with the wonderful work of terra cotta tiles, walnut millwork, indoor and outdoor fireplace, leather banquettes and obviously, the wooden beams. The scrumptious dishes with this amazing atmosphere will offer you the best time of your life to spend with your friends or special one.